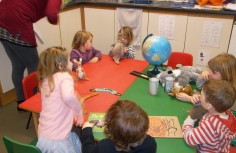 We looked at a globe to see where in the world Australia is.
We learnt about the animals that live in Australia: kangaroos, koala bears and wombats!
We looked at some wooden boomerangs from Australia and then decorated our own boomerangs with coloured dots, just like Aboriginal patterns.
Read more...